Ted Adams
WHO IS "TED ADAMS"?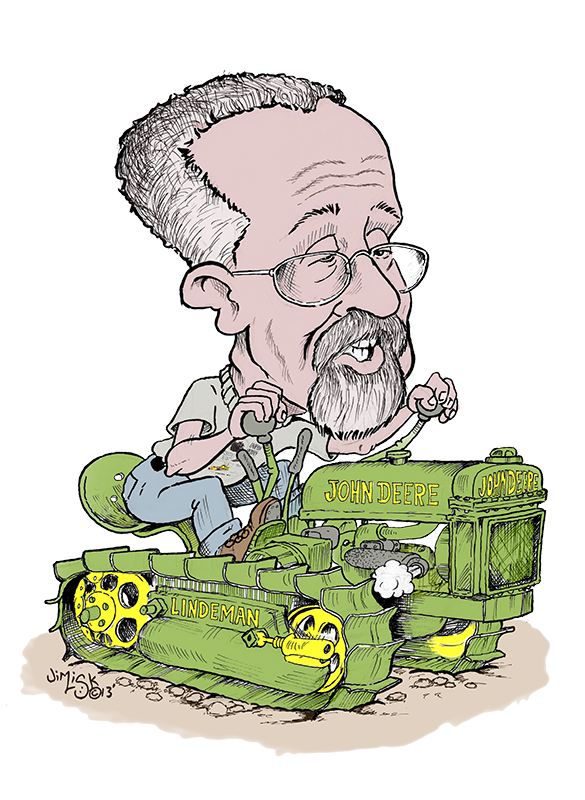 Who is this Ted Adams? For those of you who have asked these questions of yourself or others, let me try to tell a little about myself and how I have possession of the information, stories, and pictures that have perked your interest.
I, Ted Everett Adams, was born October 14, 1942 in Yakima, Washington. With the exception of my tour of duty with the Air Force, I have lived, worked and raised my family in this beautiful central Washington city for the better part of my life. I am now retired and devote many delightful hours to the history of the Lindeman Equipment Company, their products, and the accomplishments of the family. I did not know what an adventure it would be for me when I first began working with the Lindeman family. Like many other young men who had finished their military obligation, I had just come back home looking for a way to support my growing family. I found that, and much more in the association with the Lindeman operations.
Jesse and Joe Lindeman founded the Northwest Equipment Company in 1947 so that they could fulfill an order of roll-over plows, which they had with Harry Ferguson, and the Thys Hop Picking Machine. The government would not let the John Deere Company fill this order after purchasing the Lindeman Power Equipment Company in 1946.
At the end of my four year military career, I returned to Yakima and began working in the "bagger department", i.e., machines which bag apples and potatoes. As orders for this department slowed, I was transferred to the "tiller department". My position alternated in these two departments for the next few years. Later, I was assigned to just the tiller department, which was where Jesse devoted most of his time and efforts. I worked there for a few years and enjoyed the position.
Eventually, my boss, Orie Durland, had decided to retire in a year or so, and began training me to become head of the department after his retirement. Orie was a very good trainer, because I was assigned to manage the tiller department upon his official retirement.
In the early to mid-eighties, Jesse and Joe Lindeman sold the company. Jesse stayed on with the company for a short time and Joe stayed with the new owners until his death, about a year later. The new owners were not equipment manufacturer minded and opted to sell that part of the company. Jesse had developed a three-point hitch for the Caterpillar Tractor Company, mainly so the Northwest Tiller could be used behind a Caterpillar Tractor. The hitch did have some warranty problems, so it was discontinued and the entire inventory was junked.
Jesse often told me that his wife, Jane, was tired of him around the house all the time, so he and one of his sons and grandson started a new company, Lindex. They retrieved from the junk heap all the parts and pieces of the hitch which could be found.
I found myself unhappy with the new owners of Northwest Equipment Company and I chose to end my employment with them. Luckily, Jesse was in the market for a manager of Lindex and I was back working with him again. That was in 1988, Jesse was 89 years old, no not old, young. He would end his work day between 3:00 and 3:30 p.m., come into my office, and sit down at my desk to talk about the "Good Old Days of Lindeman Power Equipment Company. Our professional lives had intertwined for many, many years. It was during these times I came to realize what a great individual
Jesse Lindeman actually was. I was mature enough to grasp how much of himself he had put into his work, his love of machinery, and of making things work.
Although I personally was never a part of Lindeman Power Equipment Company, the old scrap books and photos albums were always around the places I worked. I enjoyed them as much as Jesse did talking about the old days, and the progression of the equipment.
His remembrances of the old crawlers and equipment which they had built over the years spurred me to try to locate one of the BO Crawlers to have around so that when Jesse talked about them, there would be one right there. Unfortunately, Jesse passed away in
September 1992, one month before his 93rd. birthday, and I had not been able to procure the crawler.
About a year or so later, the family sold Lindex to a company back East, but I decided not to leave my beloved Yakima Valley to continue employment with them. I discussed the old photos, scrapbooks, and memories with the Lindeman family. The family asked me to take them,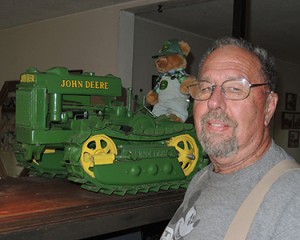 show them around to others who also shared an interest in the history of machinery, tractors, and the advancement of mechanized farming in our area.
It has proven to be a request that I am enjoying to the fullest: the sorting, the writing, the sharing, I learn something new about the Lindeman's whenever I share my experiences and knowing that my life, as well as others were enriched by the contributions of this family enterprise.
Ted E. Adams
2010